CONTAINS SPOILERS
Verdi is a T-Rex that lives at Havenfield. Havenfield is referred to as her permanent residence because she rarely accepts Grady's planned vegetarian diet. She has bright neon green feathers and is very big. She also is proven useful in a battle with ogres. In Lodestar, Verdi takes out several ogres after goblin guard Brielle dies in the ogre ambush at Havenfield.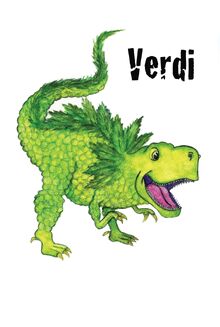 Ad blocker interference detected!
Wikia is a free-to-use site that makes money from advertising. We have a modified experience for viewers using ad blockers

Wikia is not accessible if you've made further modifications. Remove the custom ad blocker rule(s) and the page will load as expected.