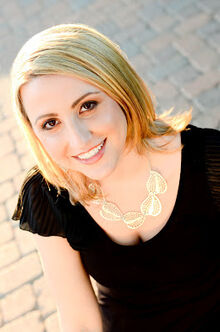 According to the back of each book, "Shannon Messenger graduated from the USC School of Cinematic Arts where she learned--among other things--that she liked watching movies much better than making them. She's studied art, screenwriting, and film production, but realized her real passion was writing stories for children. She's the bestselling author of the middle grade series, KEEPER OF THE LOST CITIES, and the SKY FALL series for young adults. Her books have been published in numerous countries and translated into ten different languages. She lives in Southern California with her husband, Miles, and an embarrassing number of cats."
She absolutely loves cupcakes, and was inspired by Legolas and the X-men. Her series, Keeper of the Lost Cities is now a New York Times Bestseller.
(Psst, she has about 5 cats) and has a loving boo
Books
Keeper of the Lost Cities: Exile
Keeper of the Lost Cities: Everblaze
Keeper of the Lost Cities: Neverseen
Keeper of the Lost Cities: Lodestar
Keeper of the Lost Cities: Nightfall
Let The Sky Fall
Let The Storm Break
Let The Wind Rise
Shannon Messenger Online:
Edit
Or you can visit the Keeper of the Lost Cities Website.
Ad blocker interference detected!
Wikia is a free-to-use site that makes money from advertising. We have a modified experience for viewers using ad blockers

Wikia is not accessible if you've made further modifications. Remove the custom ad blocker rule(s) and the page will load as expected.