Biana & Tam

Some attributes

Pairing Name
Tiana
Status
Friends
Rivals
Biana and Keefe

Biana and Dex Biana and Jensi

Other attributes

First Met
Book 4: Neverseen
Tiana is the romantic/ friendship pairing of Biana Vacker and Tam Song. It is implied that Tam finds Biana attractive when he tells Keefe that he won't join the Foster fan club and glances in Biana'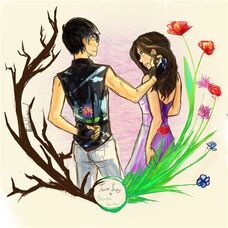 s direction.
Characters Shipped:
Status
Rivals
Biana Vacker and Tam Song
Friends/possible love interest
Biana and Keefe

Biana and Dex

Biana and Jensi
Other Names
Edit
Tiana (T/am and B/iana)
Bam (B/iana and T/am)
Keefe tells Tam that he is the president of the Sophie Foster Fan Club, and that it's closed to new members.Tam assures him that he is not interested in Sophie and glances at Biana.[1]
Biana tells Tam that he (and Linh) should come to Foxfire so they can hang out more.
Biana and Tam spent a day looking around Candleshade together.
Biana says that she isn't protective of her brother but she doesn't like when people become her friend just to get to him. She says Linh should know how it feels because of Tam.
Tam comforts Biana when she questions what it really means to be a Vacker.
Biana fixes Tam's mom's painting of Tam by adding his sliver bangs so it finally looks like him.
Similarities and Differences
Edit
Similarities:
Edit
They are both elves.
They both have attended Exillium.
They both are official members of the Black Swan.
They both have a sibling.
They both have an ability that can keep other people from seeing them.
They both have blue eyes.
They both are friends with Sophie.
They both live in the Lost Cities (as of Lodestar).[8]
Differences:
Edit
Tam has silvery blue eyes, while Biana has teal eyes.
Biana lives at Everglen with her whole family, while Tam lives in another residence with Linh and Tiergan, which is not Choralmere.
Biana has brown hair, while Tam has black hair with silver tips.
Biana is close to her parents while Tam is on tense terms with them.
Tam is a twin, while Biana is not.
Biana has two siblings, while Tam has only one.